We have 5 types of light beam patterns: Spot (Long Range), Driving, Spread, Fog, and Flood.
Spot Beam (Long Range): Spot or Long Range lights are engineered to pierce through the darkness, illuminating vast distances. KC Long Range Lights emit a concentrated, tightly focused circular beam of light, often referred to as a pencil beam. This specialized design enables these lights to project far into the distance, providing exceptional visibility even at high speeds. The result is an intensely bright and hot center beam pattern. Spot beam lights find their ideal applications in Off-Highway, Commercial, Agricultural, and Racing scenarios, where extended visibility and precision lighting are essential for safe and efficient operations.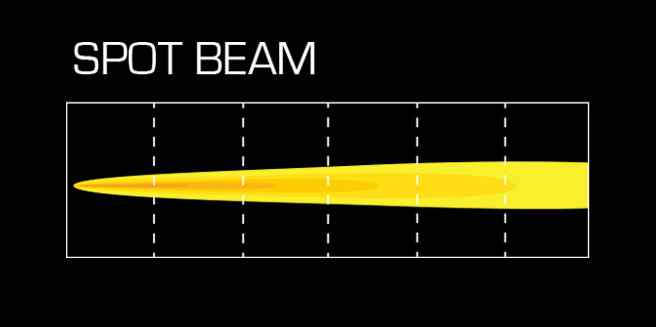 Driving Lights: Designed to complement your headlights, KC's Driving Lights adhere to both SAE and ECE regulations, making them fully street-legal. These lights emit a rectangular-shaped beam pattern that extends farther and wider than standard headlights. Driving lights are invaluable for enhancing visibility along the sides of roadways and in front of the vehicle. They prove to be particularly useful for all-around trail riding, ensuring clear visibility in various conditions.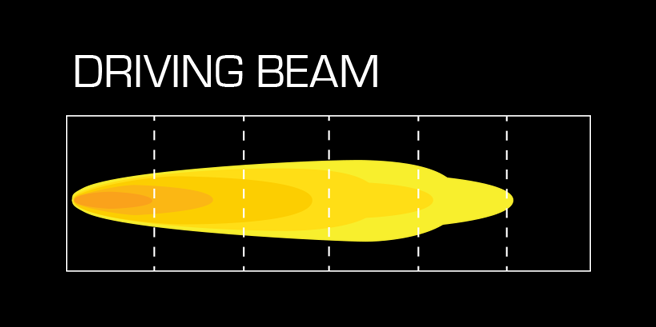 Spread Beam Lights: Similar to Driving Lights, Spread Beam lights offer enhanced brightness, wider coverage, and potentially greater height. Unlike Driving Lights, Spread Beam lights are not bound by specific SAE or ECE safety standards, providing flexibility in their design. As a result, Spread Beam lights are excellent choices for versatile off-road applications, offering powerful illumination for a variety of purposes.
Fog Lights: Designed to be mounted below the headlights, fog lights project a beam pattern that is exceptionally wide horizontally and narrow vertically, often referred to as a cut-off pattern. This specific design illuminates the pathway close to the ground without lighting up airborne particles in the line of sight, enhancing visibility in challenging conditions. KC Fog Beam lights prove invaluable in scenarios involving dust, fog, rain, and snow. Furthermore, they serve as effective cornering lights in clear weather, strategically enhancing visibility alongside your primary headlights. Their optical design is carefully engineered to work in harmony with your headlights, ensuring optimal illumination and safety, particularly in adverse weather conditions.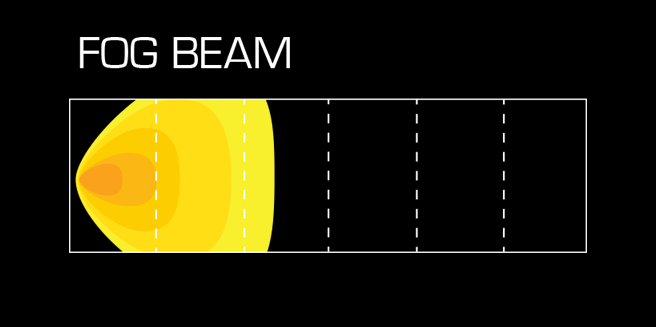 Flood Lights: Flood beams generate a broad and expansive pattern of light, flooding an area with exceptionally tall vertical and wide horizontal illumination. This distinctive design is perfect for work lights and backup lights, enabling visibility over a large area at shorter distances. Flood beam lights are ideal for tasks that require a well-lit workspace, offering ample illumination across a wide field, making them essential for various professional and recreational applications.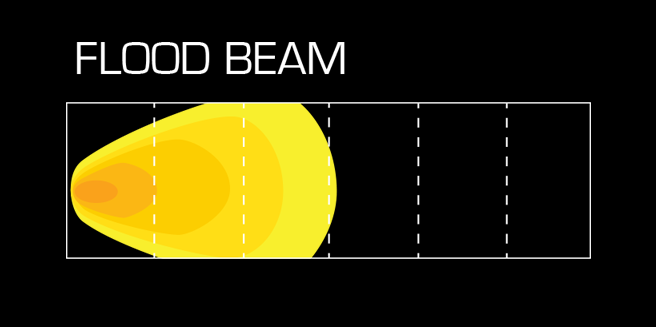 Please visit our Lighting Technology page for more information about light sources and light measurement.